Goldlund Project
Project Overview
Technical Reports
Video and Photo Gallery
Overview:
| | |
| --- | --- |
| Location: | 30 km NE of town of Dryden, Ontario, Canada |
| Area: | 23,858 hectares |
| Metals: | Gold |
On June 17, 2016, First Mining completed an amalgamation with Tamaka Gold Corporation, a privately held mineral exploration company that owned the Goldlund Gold Project. The project is an Archean lode-gold project that consists of 167 claims and three leases covering approximately 23,858 hectares in northwestern Ontario, located approximately 60 km from the town of Dryden. The property has been extensively explored and hosted an underground and open-pit mine between 1982 and 1985.
WSP Canada Inc. was commissioned by First Mining in 2016 to issue a mineral resource and complete a technical report for the Goldlund Project. The technical report, which is entitled "Technical Report and Resource Estimation Update on the Goldlund Project" and dated January 23, 2017 (the "Goldlund Technical Report"), can be found under First Mining's SEDAR profile at www.sedar.com, and on First Mining's website. The report has been prepared in accordance with National Instrument 43-101 Standards of Disclosure for Mineral Projects (NI 43-101), Companion Policy 43-101CP to NI 43-101, and Form 43- 101F of NI 43-101.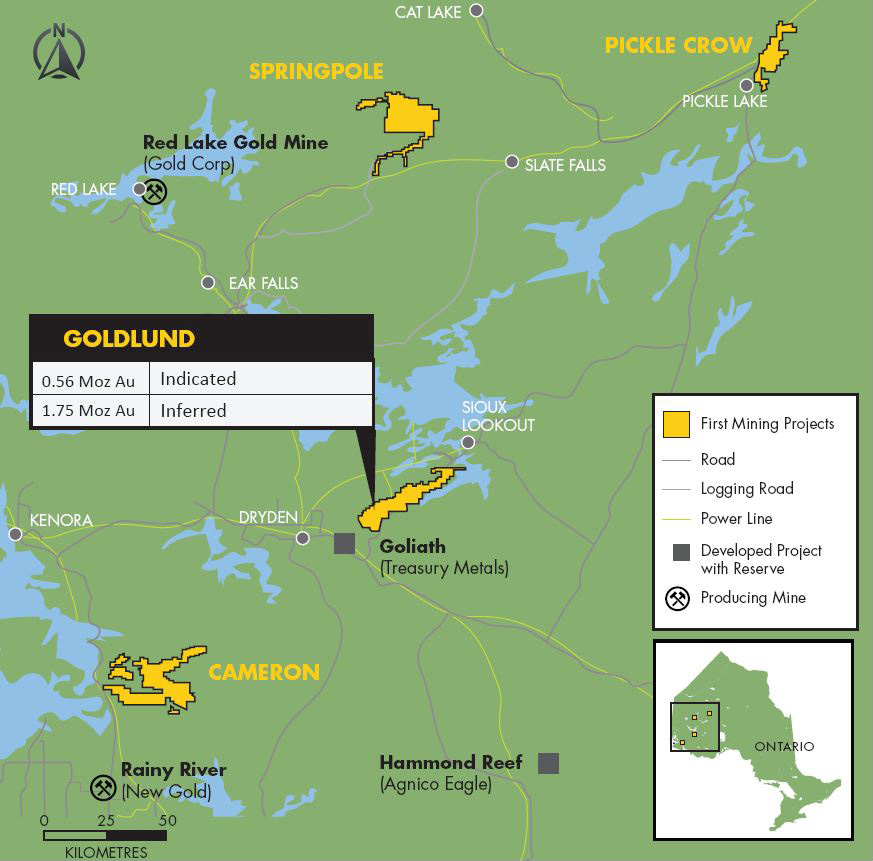 Project Highlights:
Advanced stage exploration project
Indicated Resource: 9.3 Mt grading 1.87 g/t Au containing 560,000 ounces of gold
Inferred Resource: 40.9 Mt grading 1.33 g/t Au containing 1,750,000 ounces of gold
Excellent infrastructure including roads and power
Large land package with considerable exploration upside potential
Goldlund Mineral Resource Estimate (by zones) within a US$1,350/oz Whittle pit shell:
Classification

Zone

Tonnes

Au Grade g/t

Contained Au (oz)

Indicated

1

5,510,000

1.65

290,000

2

1,640,000

1.76

90,000

4

1,660,000

2.73

150,000

8

510,000

1.79

30,000

Total Indicated

9,320,000

1.87

560,000

Inferred

1

17,800,000

1.36

780,000

2

1,030,000

1.22

40,000

3

1,390,000

1.61

70,000

4

730,000

2.4

60,000

5

1,280,000

1.19

50,000

7

17,950,000

1.28

740,000

8

720,000

0.9

20,000

Total Inferred

Subtotal

40,890,000

1.33

1,750,000
Notes:
Based on the technical report titled

"Technical Report and Resource Estimation Update on the Goldlund Project"

dated February 7, 2017, which is available at www.sedar.com under First Mining's SEDAR profile.
Base case uses a 0.4 g/t Au cut-off grade.
Resources stated as contained within a potentially economic limiting pit shell using a metal price of US$1,350 per ounce of gold, mining costs of US$2.00 per tonne, processing plus G&A costs of US$15.40 per tonne, 93% recoveries and an average pit slope of 48 degrees.
Mineral resources are not mineral reserves and do not have demonstrated economic viability. There is no certainty that all or any part of the mineral resources will be converted into mineral reserves.
Mineral resource tonnage and contained metal have been rounded to reflect the accuracy of the estimate, and numbers may not add due to rounding.
Goldlund Geology and Mineralization
The following has been extracted from the Goldlund Technical Report. For further details, see the full text of the Goldlund Technical Report, available under First Mining's SEDAR profile at www.sedar.com.
The Goldlund Project is situated within a northeasterly-projecting arm of the Wabigoon Subprovince that extends from Wabigoon Lake to Sioux Lookout. The area is underlain by sedimentary and volcanic rocks, numerous intermediate to mafic subvolcanic intrusive sheets, and is intruded by several granitoid stocks. The stratigraphic assemblage is subdivided into five principal rock groups:the Northern Volcanic Belt, Northern Sedimentary Group (Abram Group), Central Volcanic Belt (Neepawa Group), Southern Sedimentary Group (Minnitaki Group), and the Southern Volcanic Belt. The area has been affected by multiple deformational events, resulting in a dominant northeast trending structural fabric. The majority of identified mineralization is hosted within the Central and Southern Volcanic Belts.
Gold mineralization appears to be concentrated in quartz-filled fractures that trend 005° to 015° and dip 35° to 50° towards the northwest. These fractures are concentrated in zones that display an intermittent, 200 to 300 m spacing for a total strike-length of 3 km.The identified fractures have been investigated to a vertical depth of 200 to 400 m.