Miranda
Overview:
| | |
| --- | --- |
| Location: | 60 km west of Caborca and 128 km south of Sonoyta (US border) in the state of Sonora |
| Area: | 6,897 |
| Metals: | Gold |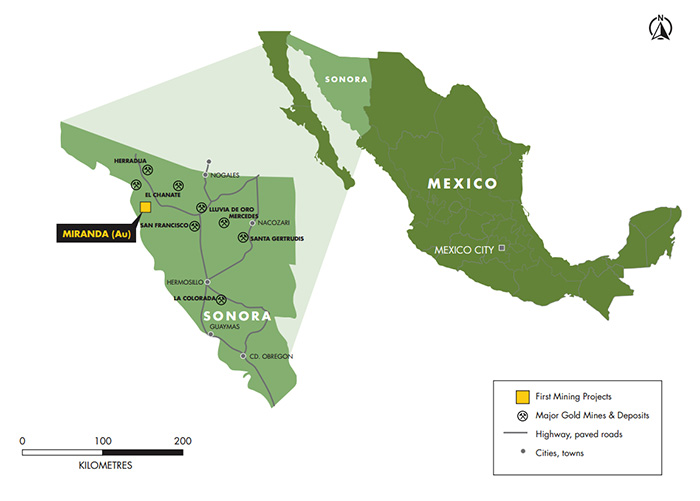 Property Highlights:
The Miranda gold property covers 6,897 hectares in the Sonoran desert within a structural corridor of the Sonora-Mojave megashear ("SMM trend"). Based on the knowledge of the geology, alteration, structural controls of the mineralization and exploration experience, First Mining believes that an open-pit, leachable target is attainable within the property.

The SMM trend hosts multimillion ounce deposits and has seen historic production at Herradura-Dipolos in Mexico, and at both Mesquite and Picacho in Arizona. Miranda lies in the south-central part of the SMM trend, adjacent to San Felix and El Antimonio mining districts on the south and east respectively. Miranda covers multiple prospects and gold occurrences including the inactive mines La Fortuna and El Gigio. Additionally, the property exhibits structures and lithlogies favorable for the development of large orogenic (mesothermal) ore deposits similar to those occurring along the SMM trend.

Miranda is located 60 km west of Caborca and 128 km south of Sonoyta (US border) in the state of Sonora. Geological reconnaissance and rock chip sampling has identified a zone of strongly fractured granitic rocks partially covered by gravel and metasedimentary and andesitic volcanic rocks. The entire rock sequence is cut by gold-bearing quartz veinlets that delineate a target area of considerable dimensions (2,500 m x 1,000 m). Of 118 grab samples taken in the initial reconnaissance, 26 samples contained gold between 0.2 and 0.5 gpt Au, and 18 samples contained between 0.5 and 15 gpt Au. Subsequent channel samples cut with diamond saw in a stockworked granite exposed in an arroyo averaged 0.16 gpt Au over a 60 meter section. Individual samples within the stockwork range from 0.11gpt Au to 0.36 gpt Au. Sericite and siderite are associated with this stockwork zone which goes under gravel and sand cover to the west.

Following regional geological reconnaissance of the property, the company conducted detailed mapping and sampling in selected areas and an airborne ZTEM/Magnetomety survey of nearly the entire property.

During the first quarter of 2015, mapping was continued on the property during which over 300 rock chip samples were taken, and a 3,500 soil sampling program was undertaken to explore covered areas adjacent to known gold mineralization. Follow up at Miranda will entail tracing the stockwork mineralization under gravel cover to the west.