Hope Brook Project
Project Overview
Technical Reports
Photo Gallery
Overview:
On April 6, 2021, First Mining entered into a definitive agreement with Big Ridge Gold Corp. ("Big Ridge") (TSX-V:BRAU) whereby Big Ridge may earn up to an 80% interest in First Mining's Hope Brook Gold Project located in the mining friendly jurisdiction of Newfoundland, Canada. The project consists of 7 mineral and exploration claims that cover 26,650 hectares.
Earn-In Details 1
Upfront Consideration (Complete)
• $500,000 cash upon closing
• 11.5 million shares of Big Ridge upon closing
Stage 1 Earn-in (51% earn-in over 3-year period)
• $10 million in qualifying expenditures
• 15 million shares of Big Ridge
• 1.5% NSR royalty (0.5% buyback for $2M)
Stage 2 Earn-in (+29% to 80% earn-in within 5 years)
• $10 million qualifying expenditures
• 10 million shares of Big Ridge or "top-up" to 19.9% of shares outstanding
Additional Terms
• JV to be created upon completion of Stage 1
• First Mining free carried to a feasibility study
• $2M cash payment upon commercial production
1 See First Mining News Release dated April 6, 2021 for further details link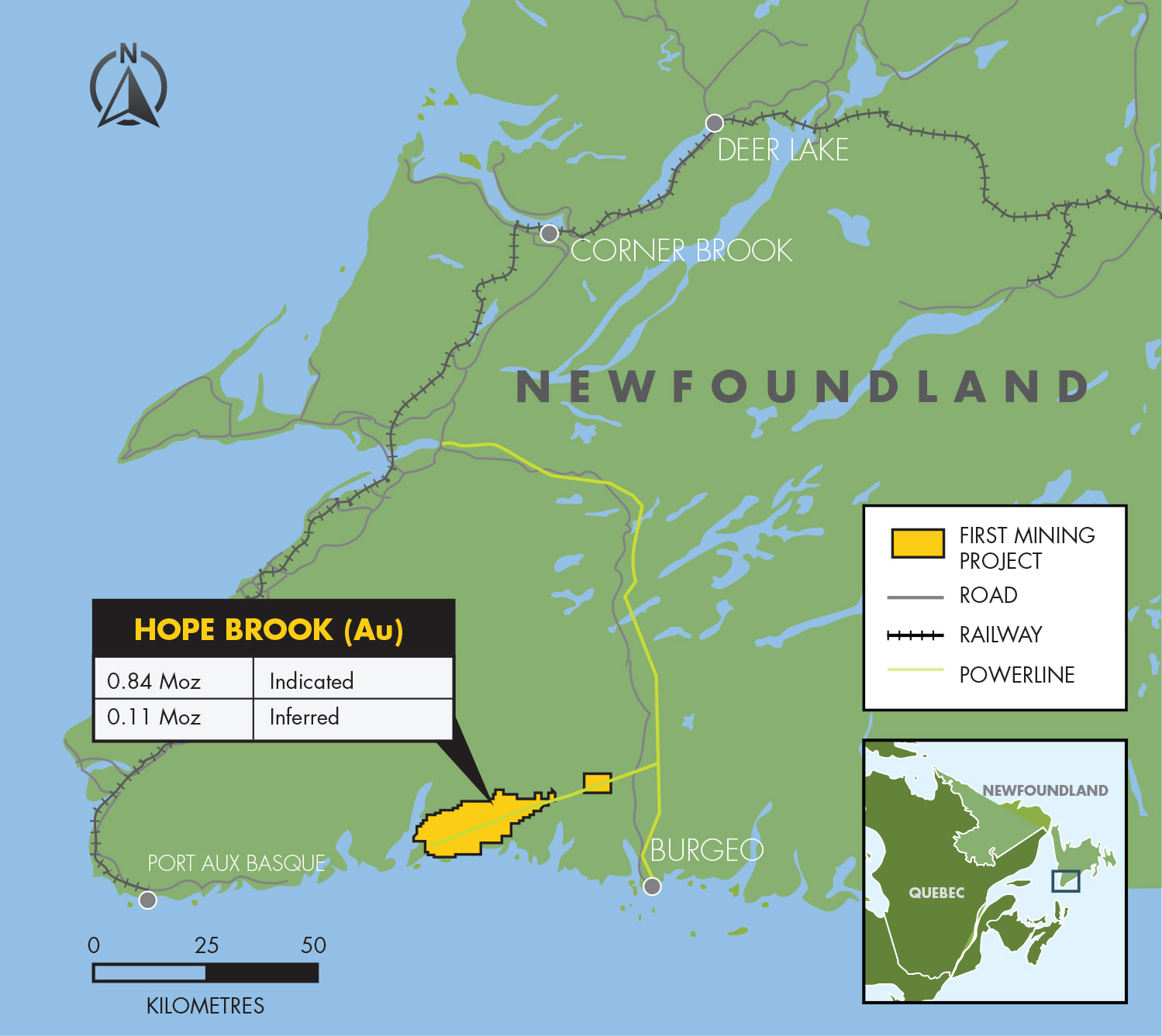 Project Highlights:
Potential for high-grade underground production scenario
High-grade underground resource of:
- Indicated Resource: 5.5 Mt at 4.77 g/t Au containing 844,000 ounces of gold
- Inferred Resource: 0.84 Mt at 4.11 g/t Au containing 110,000 ounces of gold
Significant infrastructure which includes a ramp to 350 m below surface with vent raise, power, access by sea and air, and a strong local labour force
Strong support from community and government of Newfoundland
Previous operator of the project produced 752,163 ounces of gold between 1987 - 1997.
Drill targets with potential to significantly increase resources have already been outlined
Hope Brook Mineral Resource Estimate for Gold at 3.00 g/t Au Cut-off*
| | | | |
| --- | --- | --- | --- |
| Resource Category | Tonnes | Au Grade (g/t) | Contained Au (oz.) |
| Indicated | 5,500,000 | 4.77 | 844,000 |
| Inferred | 836,000 | 4.11 | 110,000 |
*Notes:
1. Based on the technical report titled "2015 Mineral Resource Estimate Technical Report Hope Brook Gold Project Newfoundland And Labrador Canada - Dated November 20, 2015", effective Date is November 20, 2015, which is available at www.sedar.com under First Mining's SEDAR profile.
2. Resource includes only the Mine Zone and 240 Zone areas.
3. Resource is based on the partial percentage block model with dike material removed. Dike percentage is estimated at 18% for the Mine Zone and 0% for the 240 Zone.
4. The gold grades reflect applications of domain-specific raw assay capping factors that range between 55 g/t and 3 g/t Au.
5. The rounding of tonnes may result in apparent differences between tonnes, grade and contained ounces.
6. Mineral resources that are not mineral reserves do not have demonstrated economic viability. The estimate of mineral resources may be materially affected by environmental permitting, legal, title, taxation, sociopolitical, marketing or other relevant issues.
Project History
The Hope Brook deposit was discovered in 1983 by BP-Selco Inc. and was mined from 1987 to 1997 with total production reported to be 752,163 ounces of gold plus a copper concentrate from 1993 to 1997. In 2011, Coastal Gold began an exploration program around and below the existing Hope Brook mine resulting in the development of an underground resource based on 3 g/t gold cut-off of 954,000 ounces of gold in combined Indicated and Inferred categories. First Mining acquired Coastal Gold and the Hope Brook property in July 2015.
Hope Brook Geology and Mineralization
The Hope Brook deposit is hosted by pyritic silicified zones within a deformed, strike extensive advanced argillic alteration zone characterized by the presence of silica, sericite, pyrophyillite, kaolinite, alunite, pyrite, chalcopyrite and gold. This structure is approximately 500 m wide and extends for at least 5 km along strike. Gold mineralization predominantly occurs in silicified Late Proterozoic sedimentary and volcanic rocks of the Whittle Hill Sandstone - Third Pond Tuff succession and also in altered quartz feldspar porphyry dikes and sills that intruded this section.
There are two major stages of silicification: an early buff coloured silicification that typically has lower grade gold values (0.5 to1.5 g/t Au) and a later intense blue-grey vuggy silicification typically as breccias superimposed on the earlier silicification. The later stage of silicification is characterized by higher grade gold and copper (2 to 15 g/t Au and 0.3% to1% Cu).
The deposit type is similar in nature to the Haile gold deposit in South Carolina.