News Releases
First Mining Finance Completes Fall Drill Program at Pickle Crow Project, Intersects 1.28 g/t over 12.70 metres, including 15.14 g/t over 0.70 metres in the No. 15 Vein
February 3, 2017
VANCOUVER, BRITISH COLUMBIA--(Marketwired - Feb. 3, 2017) - First Mining Finance Corp. ("First Mining" or the "Company") (TSX VENTURE:FF)(OTCQX:FFMGF)(FRANKFURT:FMG) is pleased to announce the completion of an initial diamond drill program on its 100% owned Pickle Crow Project ("Pickle Crow"), located in northwestern Ontario, Canada.
Highlights:
Hole PC-16-306 intersected 1.28 g/t over 12.70 metres including 15.14 g/t over 0.70 metres in the middle vein zone of the No. 15 Vein.
Visible gold was intersected in Hole PC-16-306 in the lower vein zone of the No. 15 Vein.
Note: Reported widths are drilled core lengths; true widths are unknown at this time. All assays are performed by Accurassay Laboratories of Thunder Bay, Ontario. Assay values are uncut.
A total of nine holes comprising approximately 1,300 metres were drilled during the fall 2016 program. The drill program targeted several shallow, high-grade vein and banded iron formation hosted targets in the core mine trend. The objective of this exploration program was to test extensions of known vein zones and discover new high-grade gold mineralization.
Gold mineralization was encountered in seven of the nine drill holes and visible gold was intercepted in the lower most vein zone of the No. 15 Vein structure. A 0.30 metre section of drill core from the lower vein zone which included the visible gold was not assayed as it was retained for display purposes, hence the reported intercept of 1.15 g/t gold over 8.19 metres excludes this interval and the 0.30 metre section was included at zero grade.
Commenting on the results, Patrick Donnelly, President of First Mining stated, "The recent drilling program at Pickle Crow demonstrates that there is widespread gold mineralization at the property. Given the success of this drilling program the Board of Directors has authorized a winter drilling campaign at Pickle Crow which is to be comprised of four additional holes totaling approximately 1,000 metres. We look forward to seeing how this second drilling campaign unfolds."
Table 1. Significant Intercepts.
Hole ID
Area
Description
From
(m)
To
(m)
Interval
(m)
Au
g/t
PC-16-302
Shaft 3 (No. 19 Vein up dip)
No Significant Assays
PC-16-303
Shaft 3 (PC-103-083 Vein up dip)
No Significant Assays
PC-16-304
Albany (PC-09-051 Vein)
Shear zone
106.5
107.0
0.5
1.57
PC-16-304
Zone, QFP
129.0
135.7
6.7
0.36
PC-16-304
Including
133.5
134.7
1.2
1.18
PC-16-305
Albany (PC-09-051 Vein)
Zone, Vein
53.3
53.8
0.5
1.62
PC-16-305
Zone, QFP & MV
125.6
149.4
23.8
0.53
PC-16-305
Including
137.1
140.1
3.0
2.53
PC-16-305
Zone, QFP
160.9
162.0
1.1
0.71
PC-16-306
No. 15 Vein
Upper No. 15 Vein
71.3
78.0
6.7
0.59
PC-16-306
Including
74.3
75.0
0.7
3.53
PC-16-306
Middle No. 15 Vein
82.0
94.7
12.7
1.28
PC-16-306
Including
83.2
84.4
1.3
1.20
PC-16-306
Including
88.8
89.5
0.7
15.14
PC-16-306
Including
92.0
93.0
1.0
1.72
PC-16-306
Lower No. 15 Vein
110.4
118.6
8.2
1.15
PC-16-306
Including
113.0
114.0
1.0
2.66
PC-16-306
Including
116.0
117.8
1.8
2.63
PC-16-307
Crowshore
Zone, BIF
34.7
37.2
2.5
0.34
PC-16-307
Shear zone
96.4
98.0
1.6
0.51
PC-16-307
Shear zone
101.9
103.3
1.4
0.70
PC-16-308
Crowshore
Zone, BIF
20.1
21.4
1.3
0.28
PC-16-309
No. 15 Vein
Upper No. 15 Vein
86.6
90.1
3.5
0.14
PC-16-309
Shear zone
106.1
108.6
2.5
0.58
PC-16-309
Shear zone
115.0
121.4
6.4
0.12
PC-16-310
Sawmill Vein
Zone, BIF
37.5
42.0
4.5
1.34
PC-16-310
Zone, BIF
49.0
52.5
3.5
0.34
All assays are performed by Accurassay Laboratories of Thunder Bay, Ont. Samples were analyzed by using 50-gram fire assay with an atomic absorption finish. Samples greater than 10 grams per tonne or with visible gold were analyzed by 1,000-gram pulp metallic analysis with a gravimetric finish. All assays reported are uncut. Reported widths are drilled core lengths, and true widths are unknown at this time. Accurassay Laboratories is independent of First Mining and has no relationship with First Mining.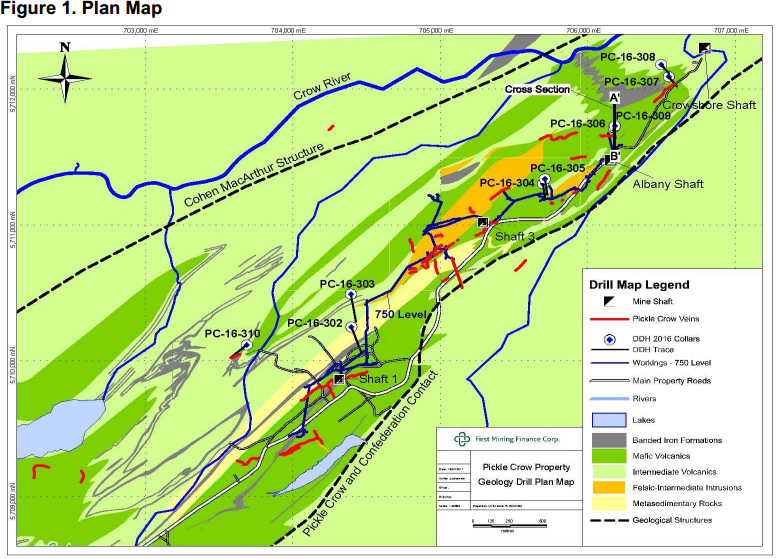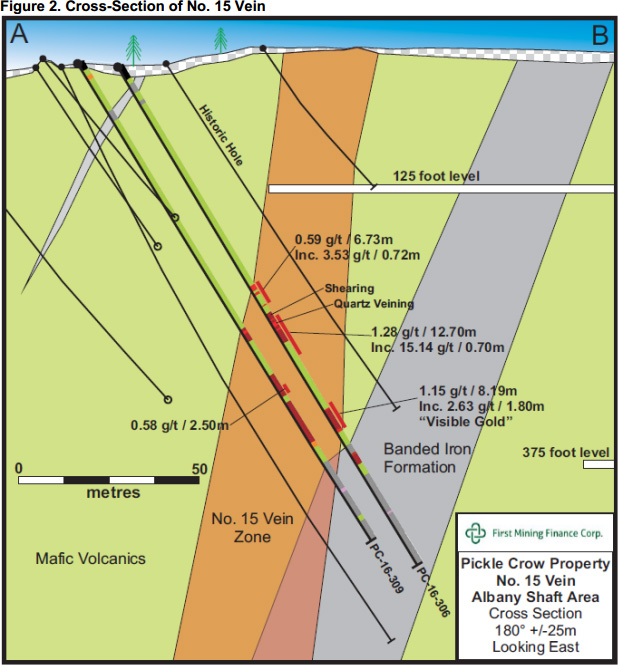 QA/QC Procedures
First Mining implemented the following QA/QC procedures for the Pickle Crow Gold Project drill program.
NQ diameter (47.6 mm) drill core is logged then sawn in half onsite, with one half bagged and labelled and the other half placed in core boxes to serve as a permanent record and stored in a secure on-site facility. All samples are shipped from the site via Manitoulin Transport to the Accurassay Laboratories facility in Thunder Bay, Ontario, for crushing, pulverization and pulp preparation. Accurassay Laboratories is independent of First Mining and has no relationship with First Mining.
All samples sent for analyses are prepared using a jaw crusher, which is cleaned with compressed air between samples, resulting in 70% of the sample passing through a 10 mesh screen. A 1,000 gram split of the crushed sample is then pulverized with 85% passing through a 200 mesh screen. Fire assays are performed using 50 grams of sample with assays equal to or greater than 5 g/t calculated gravimetrically, and lower grade samples measured by atomic absorption (AA). All samples greater than 10 g/t are additionally sent for screen metallics analysis using the remainder of the pulp (~950 grams of sample).
Blanks, standards (one high-grade, one mid-grade, and one low-grade), field duplicates (1/4 split cores), and crush duplicates are inserted sequentially at least every 8th sample into the drill core samples before shipment. Standards consist of a high-grade (~13 g/t Au), a mid-grade (~5 g/t Au), and a low-grade (~1 g/t Au) gold standard from Geostats Pty. Ltd. of Fremantle, Western Australia, as well as blanks from Nelson Granite of Kenora, Ontario.
A more detailed description of the QA/QC procedures employed may be found in Section 14.2 (PC Gold Data Verification) of the NI 43-101 resource estimate for the Property entitled "A Mineral Resource Estimate for the Pickle Crow Property, Patricia Mining Division, Northwestern Ontario, Canada", dated June 2, 2011.
Dr. Chris Osterman, P.Geo., CEO of First Mining, is the "qualified person" for the purposes of National Instrument 43-101 Standards of Disclosure for Mineral Projects and he has reviewed and approved the scientific and technical disclosure contained in this news release.
ABOUT THE PICKLE CROW PROJECT
The Pickle Crow Gold Project was a high-grade operating gold mine until the 1960s. First Mining acquired the project through its acquisition of PC Gold Inc. in November 2015. The project, which covers an area of over 14,700 hectares, is located in northwestern Ontario, approximately 400 kilometres north of Thunder Bay and approximately 11 kilometres east of the Township of Pickle Lake.
ABOUT FIRST MINING FINANCE CORP.
First Mining is a mineral property holding company whose principal business activity is to acquire high quality mineral assets with a focus in the Americas. The Company currently holds a portfolio of 25 mineral assets in Canada, Mexico and the United States with a focus on gold. Ultimately, the goal is to continue to increase its portfolio of mineral assets through acquisitions that are expected to be comprised of gold, silver, copper, lead, zinc and nickel.
For further information, please visit our website at www.firstminingfinance.com.
ON BEHALF OF FIRST MINING FINANCE CORP.
Keith Neumeyer, Chairman
Cautionary Note Regarding Forward-Looking Statements
This news release includes certain "forward-looking information" and "forward-looking statements"(collectively "forward-looking statements") within the meaning of applicable Canadian and United States securities legislation including the United States Private Securities Litigation Reform Act of 1995. All statements, other than statements of historical fact, included herein, without limitation, statements relating the future operating or financial performance of the Company, are forward-looking statements.
Forward-looking statements are frequently, but not always, identified by words such as "expects", "anticipates", "believes", "intends", "estimates", "potential", "possible", and similar expressions, or statements that events, conditions, or results "will", "may", "could", or "should" occur or be achieved. Forward-looking statements in this news release relate to, among other things: commencement of winter drilling at the Pickle Crow gold project, the expected number of holes and metres to be drilled and the success of such drilling; the discovery of high-grade, vein-type mineralization within the western extension of the Pickle Crow gold project, the extent of mineralization at the Pickle Crow gold project; and the exploration potential and upside of any of the Company's projects. There can be no assurance that such statements will prove to be accurate, and actual results and future events could differ materially from those anticipated in such statements. Forward-looking statements reflect the beliefs, opinions and projections on the date the statements are made and are based upon a number of assumptions and estimates that, while considered reasonable by the respective parties, are inherently subject to significant business, economic, competitive, political and social uncertainties and contingencies.
Many factors, both known and unknown, could cause actual results, performance or achievements to be materially different from the results, performance or achievements that are or may be expressed or implied by such forward- looking statements and the parties have made assumptions and estimates based on or related to many of these factors. Such factors include, without limitation, the results of future exploration efforts at the Pickle Crow project; management's discretion to refocus its exploration efforts; fluctuations in the spot and forward price of gold, silver, base metals or certain other commodities; fluctuations in the currency markets (such as the Canadian dollar versus the U.S. dollar); changes in national and local government, legislation, taxation, controls, regulations and political or economic developments; risks and hazards associated with the business of mineral exploration, development and mining (including environmental hazards, industrial accidents, unusual or unexpected formations, pressures, cave-ins and flooding); the presence of laws and regulations that may impose restrictions on mining; employee relations; relationships with and claims by local communities and indigenous populations; availability and increasing costs associated with mining inputs and labour; the speculative nature of mineral exploration and development; and title to properties.. Readers should not place undue reliance on the forward-looking statements and information contained in this news release concerning these times. Except as required by law, First Mining does not assume any obligation to update the forward-looking statements of beliefs, opinions, projections, or other factors, should they change, except as required by law.
Neither the TSX Venture Exchange nor its Regulation Services Provider (as that term is defined in the policies of the TSX Venture Exchange) accepts responsibility for the adequacy or accuracy of this release.